Trimble X9 3D Laser
Scanning System
Versatile and advanced scanning and imaging
you can depend on.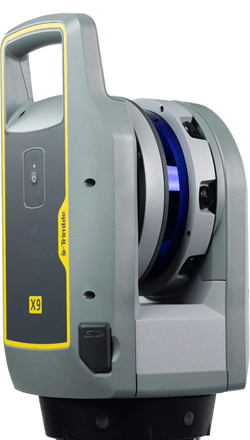 The power to do more
Do more, better, faster with the range, accuracy and short scan times you need to boost productivity.
That's the power of the Trimble® X9 laser scanning system. Capture reality in minutes for a job done right the first time.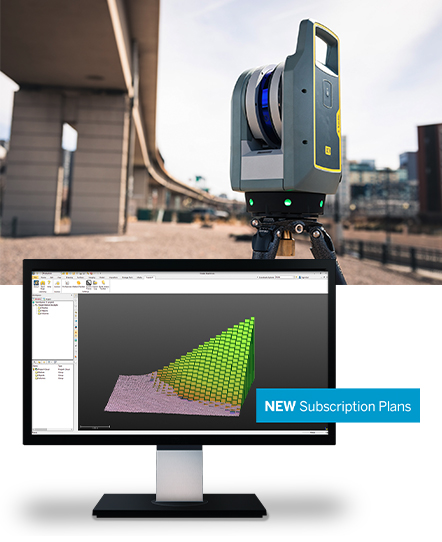 Proven
Built upon innovative and trusted Trimble technology.
Versatile
Performance and function to meet changing project requirements.
Reliable
Ease of use with dependable data and robust design for demanding environments.
Trimble Perspective
The powerful Trimble Perspective software provides unparalleled performance with intuitive field workflows for full project visibility.
Trimble RealWorks
Realworks™ software provides a solution to efficiently register, analyze, model, and create deliverables using data from any source.
Trimble Business Center (TBC)
Work with scan data using TBC scanning module and use automated tools for classification, feature extraction and CAD deliverables.
Trimble X9 3D laser scanner feature
Dependability
Self calibrating for dependable data every scan.

Survey grade self leveling for fast, easy setup.

IP55 environmental protection against dust and water.

Wide operating temperature range to keep you working all year long.
Performance
Fast scan times of less than 1 minute can be reached for fast project completion.

150 m range to put more projects within reach.

High accuracy and low range noise point cloud data for detailed digital twins.
Versatility
High speed scanning up to

1 million pts/s.

Better range, angular accuracy and data quality to support a wider range of applications.

Enhanced sensitivity for standard scans to capture difficult dark or shiny surfaces.

Flexible operation with tablet, phone, or one-button workflow.
Trimble Perspective Software
In-field registration.

In-field 3D data visualization.

Georeferencing with laser pointer and precision point.

Area scan for higher density on critical areas.
Built on proven Trimble laser scanning technologies that include automatic instrument calibration, self leveling and laser pointer for georeferencing, the Trimble X9 with Trimble Perspective software, delivers from field to office with confidence.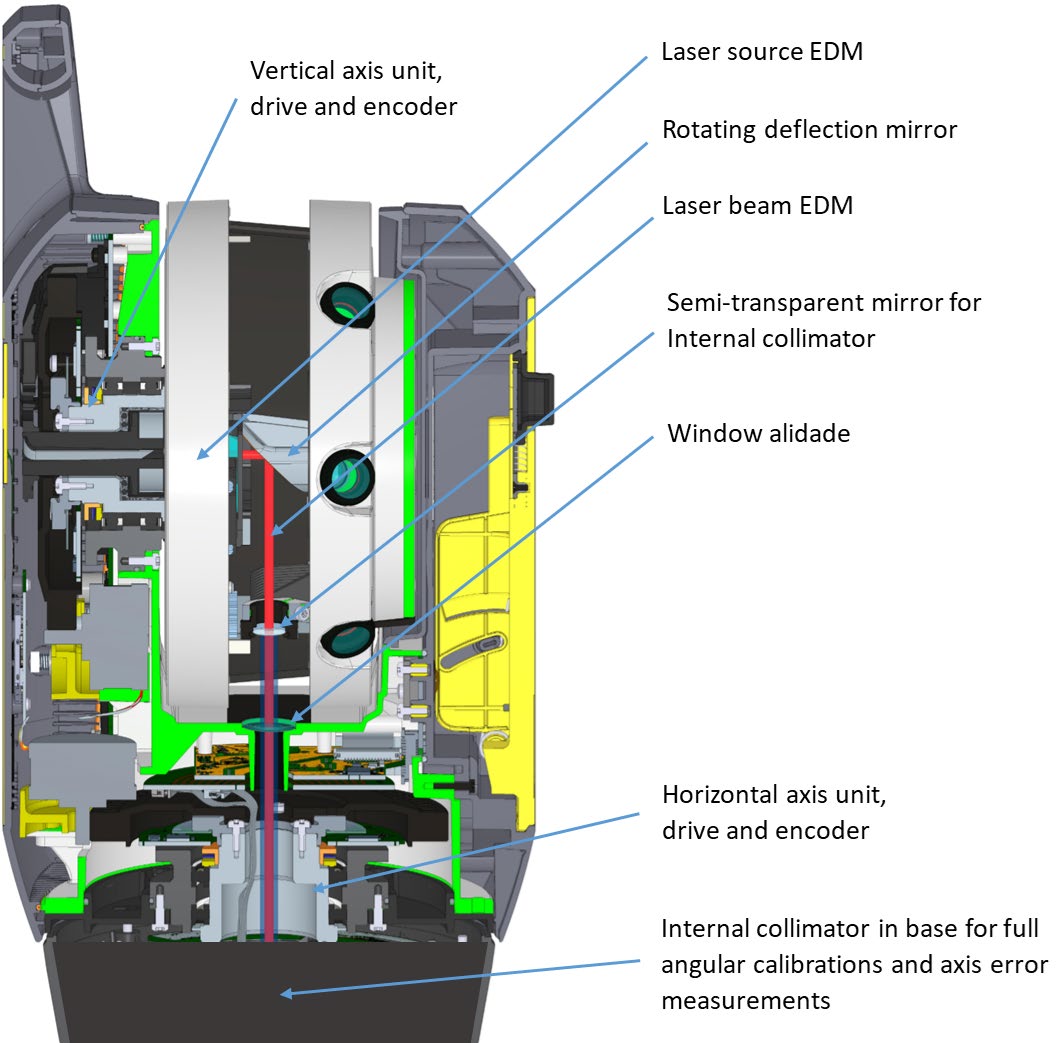 Internal Collimator for Trimble X9
The smart auto-calibration feature monitors environmental temperature, ambient light, vibration, instrument temperature and vertical speed to optimize the process.
Under normal conditions full automatic calibration will take approximately 25 seconds and under the worst conditions like extreme ambient light or vibration from the ground or wind, the process will automatically adapt and cover up to 45 seconds. The system will effectively compensate for the temperature range and after temperature stabilization, the calibration time will decrease and may not have to be run at all. The instrument can even adjust to a normal level of shocks and vibration after transportation. Internal and external conditions are continuously monitored and a watchdog will perform a calibration refresh if required to stay within the accuracy range.
Smart automatic angular and distance calibrations ensure consistent data quality without the maintenance cost, downtime and hassle associated with annual calibrations.
The Trimble X9 auto-calibration and mechanical design features lower the cost of ownership and reduce downtime for faster ROI.
Annual calibration service for scanners can range from $3,500-$6,000 after the first year of ownership. That's an average calibration cost of $19,000 after five years, and it doesn't include shipping costs or lost revenue from downtime. Companies will cover the cost of annual calibrations with extended warranties, but the average cost of a warranty is $5,200 so you can expect to pay approximately $20,800 for four years of coverage. The Trimble X7 and X9 are the only scanners on the market with a two-year warranty so you won't need to consider a warranty until year three.
Now let's talk about loss of revenue from downtime. Calibration service typically takes 2-3 weeks and this doesn't include shipping time. In general, you can expect to have the scanner out of business for one month. The average day rate for a scanner is $1,500 so depending on the amount of work you have during the service period you could be looking at a loss of up to 20 working days or $30,000. Even if you only employ the scanner for 2-3 days/week you're losing $12,000-$18,000 in revenue during the month of service.
If you consider the savings from no annual calibrations, less downtime and lower warranty cost, one X9 scanner can potentially save you enough money in five years to buy one or two more scanners, just from lower maintenance cost.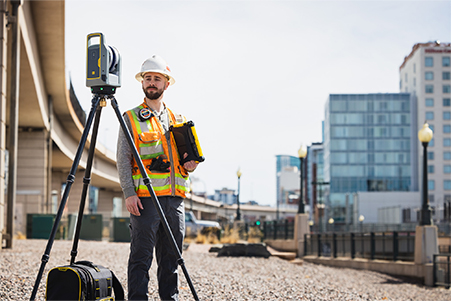 Topographic/General Surveys
The Trimble X9 quickly captures features for land title surveys, buildings, roads, intersections, site improvements, encroaching elements and complex structures:
Document and highlight features or items of interest using annotations.
Assign labels to each scan to create logical scan groups and annotations with pictures while scanning the next station.
Use auto-classification tools in Trimble's office software to extract data corresponding to the ground, buildings, powerlines, signs, vegetation, and more.
Create as-builts of road corridors, intersections, roadway surfaces, lane striping, flow lines, manholes, right of ways, overhead power lines, and other features.
Civil Infrastructure
With the Trimble X9, you can create as-built documentation for drawings or models for bridges, tunnels, dams and other civil infrastructure with a range that allows for operation from a safe distance, while the area scan feature provides high-resolution data on areas of interest. Also use it to:
Incorporate scan information in clearance calculations, modeling, inspections, renovations, and expansion work.
Leverage high-speed data capture and quickly capture area scans to reduce downtime for critical infrastructure projects.
Benefit from HDR image quality for visual inspection and sharing of information.
Register in the field to verify scan data is complete before importing to Trimble Business Center or Trimble RealWorks at the office.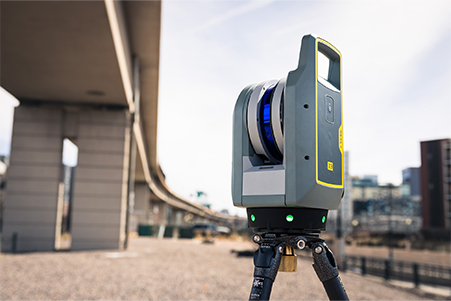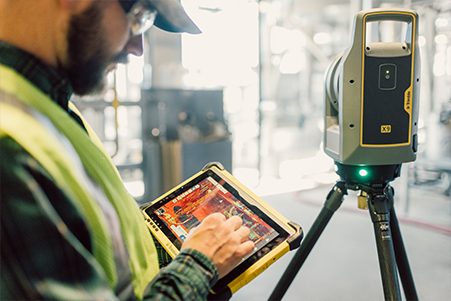 Industrial Survey
The Trimble X9 enables users to create accurate as-builts of complex industrial facilities for modeling and revamp designs. Also use it to:
Take high-resolution area scans for more detail on points of interest and safely capture inaccessible areas from a distance.
Benefit from high sensitivity to capture dark and reflective surfaces.
Enhance in-field documentation with annotations and pictures of tie-in locations inside Trimble Perspective.
Georeference scans to plant coordinate systems using Trimble RealWorks target-based registration and survey control for export-to-plant design software to do piping layouts, check fabrication spools, and detect interferences with CAD models.
Forensics
For forensics applications, use the Trimble X9's high-speed scanning and imaging to capture information at crime scenes and vehicular accidents and minimize road closures, even in extreme weather conditions. Also use it to:
Benefit from high sensitivity for dark and reflective surfaces.
Add annotations with pictures to points of interest and take measurements in the field.
Benefit from automatic field calibration with reporting for court documentation.
Register in the field to verify complete data capture before leaving the scene.
Export data to Trimble Forensics Reveal software for creation of 2D/3D diagrams and animations for investigation and reconstruction.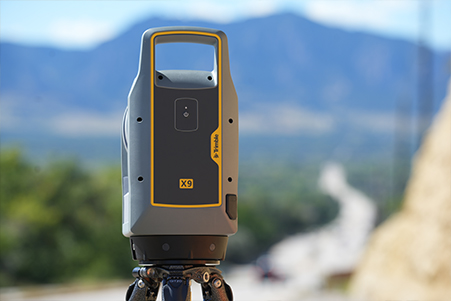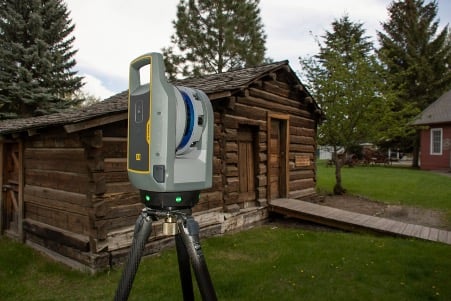 Cultural Heritage
The Trimble X9 helps you plan restoration efforts or simply capture history. Historic preservation projects require great detail to inspect or monitor surface deterioration as well as HDR imagery for documentation, analysis and restoration. Also use it to:
Retain important details with high-resolution area scans on points of interest and safely capture inaccessible areas from a distance.
Digitally preserve fragile structures for re-creation.
Document and share the site with panoramas and clear color imagery.
Add annotations in the field with images to highlight critical areas of interest back in the office.
Check data quality before leaving the site to eliminate costly and time-consuming field revisit.
Digital Twin
The Trimble X9 makes it possible to safely and effectively create as-built models for scan-to-BIM and renovations and provides clarity for adaptive reuse, building extensions and inspection of facades and elevations. Also use it to:
Optimize commercial building design accessibility.
Produce high quality colorized point clouds to clearly view the project off-site.
Register in the field to eliminate the risk of return visits, especially where access permits are difficult to obtain.
Transfer data to Trimble Business Center, Trimble RealWorks or other CAD software for final analysis and design.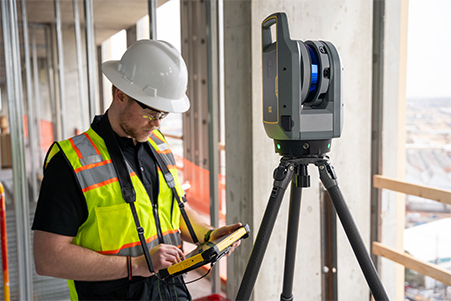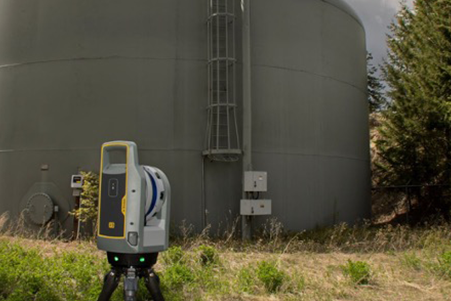 Tank Calibration & Inspection
Use the Trimble X9 to scan above ground storage tanks for dimensioning, inspection, and secondary containment analysis.
Reduce downtime with high-speed scanning backed by an IP55 rating with a two-year warranty for reliable operation in extreme conditions.
Efficiently capture precise details of storage tanks and surrounding containment areas to document verticality, roundness, and integrity.
Easily capture and verify data in the field before importing into Trimble RealWorks Storage Tank module.
Perform detailed deformation analysis and inspection according to API standards, calculate basic tank calibration and filing tables as well as perform secondary containment volume assessment.


Download the Trimble X9 brochure to learn more.